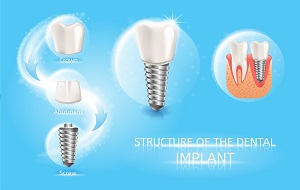 Dental implants are a great way to reshape your smile. Patients needn't worry over missing teeth or hold back their smile anymore. These teeth restoration procedures can give you a fuller and lasting smile with Dental Implants.
What are dental implants?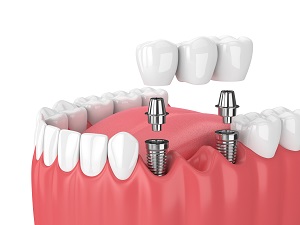 Dental implants provide a comprehensive way to restore your smile. Designed to last, implants are made of titanium roots that would be embedded into the jawbone in place of the missing teeth.
Dental implants can be of two types: Endosteal dental implants and Subperiosteal dental implants.
Endosteal Dental Implants: They are tooth restorations where the implant is placed inside the jawbone.
Subperiosteal Dental Implants: These implants are placed beneath the layer of the gum but above the jawbone.
What are the benefits of dental implants?
Dental implants help improve your oral health. Here are some of their key benefits:
Protect adjacent teeth structures.
Improve the health of both the gums and teeth.
Improve speech.
Improve self-esteem.
Come with excellent comfort and aesthetics.
What is the procedure involved in getting dental implants?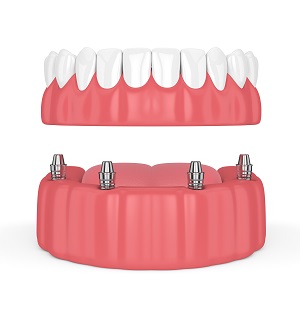 The dentist would numb the area of the gums where the implants would be placed. Once the patient is ready and comfortable, the dentist would slowly remove previous restorations, if any. Next, the dentist would prepare the area and slowly insert the implant in place. This cavity with the implant would be temporarily sealed until the implant firmly adheres to the jawbone and a certain healing period would be advised. Once healed, the dentist would remove the temporary seal and attach an abutment over the implant. This would act as a firm post that would receive the artificial tooth in the form of restoration. The dentist would have taken an impression of your tooth that would be sent to the laboratory to prepare the custom restoration. When ready, the dentist would place the restoration on the abutment and ensure it is intact. Your missing tooth would effectively be replaced by a natural-looking dental implant.
What is a single tooth implant?
If you are missing a tooth, then it can be replaced using an implant and a crown. It will act just like a natural tooth and will also be a permanent solution.
What is an implant-supported denture?
An implant-supported denture is an affordable teeth replacement option for people seeking a dental option to improve their chewing ability and smile. This procedure does not make use of any adhesive and can thus, help increase your confidence. The dentures are supported by an implant which helps in reducing the bulkiness but also giving enough space to the tongue to enjoy food. These dentures are removable, making them easy to be cleaned and maintained.
What is an all-on-4 implant overdenture?
The all-on-4 implant overdenture is a very stable restoration, which takes the 2-implant overdenture to another level. You will get all the movement like a denture, but in a more comfortable manner as this option is more stable. With four implants inserted, you will be getting more biting force back and can finally start chewing your favorite foods. This implant can stabilize more of the bone loss and take more pressure off the gums. In the upper jaw, only four implants can be placed to support a denture because the bone is a lot softer in the upper jaw.
How about a Hybrid fixed denture?
If you are someone missing all your teeth, then the fixed hybrid denture might be the right option if you need a solution similar to your natural teeth. In this, a special metal bar/framework is fabricated to screw into implants, which helps in increasing foundation and stability, and teeth are set over the bar like a denture. This fixed restoration gives back your biting ability, making you feel the natural teeth. It also stabilizes bone loss and takes more pressure off the gums.
What are Implant bridges?
If you are missing several teeth in a row, Dr. Kaur will examine your condition and probably recommend getting a dental bridge to restore that beautiful smile. If you wish to get a more stable solution, then implant-supported bridges are the best choice. A traditional dental bridge will fill the space left by missing teeth, but with the support of the adjacent teeth. On the other hand, implant-supported bridges don't have to depend on your natural teeth for support; instead, they are connected to dental implants.
Schedule an appointment with Dr. Kaur at Tracy Arch Dental to learn more about dental implants!